NEURIVA® CELEBRATES BRAIN AND SLEEP AWARENESS WEEK WITH NEW RESOURCES TO HELP CONSUMERS BE MORE PROACTIVE WITH THEIR BRAIN HEALTH
Campaign elements feature a new series of brain-friendly recipes, curated by Chef Alton Brown.
PARSIPPANY, N.J., March 9, 2023 – Daylight Savings can be a difficult time on both daily routines and sleep patterns. Recognizing this disruption, cognitive health supplement, Neuriva, a Reckitt brand, has launched a variety of resources to assist consumers in prioritizing their brain health, including delicious new breakfast recipes1 developed by brand ambassador and award-winning chef, Alton Brown.
In keeping with the brand's commitment to give brains a helping hand, the national activation for Brain & Sleep Awareness Week strives to encourage consumers to do more for their brains. The campaign includes PR, digital, advertising, and expert marketing support.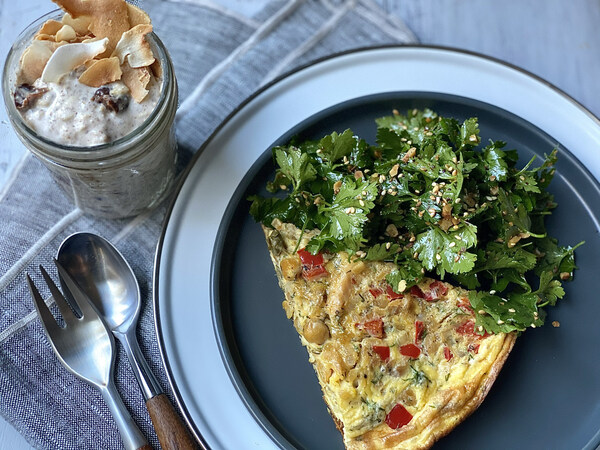 Alton Brown's New Brain-Friendly Breakfast in Partnership with Brain Health Supplement, Neuriva.
"With Brain & Sleep Awareness Week starting the day after Daylight Savings, we believe this it's the right time to remind and encourage consumers to Think Bigger and do more for their brain," said Isabel Serralha Marques, Marketing Director, Vitamins, Minerals and Supplements at Reckitt.
quote icon

"Neuriva, as a leading brain health brand, wants to support consumers take action and that's why we're providing a full brain health ecosystem of tools like brain health tips & education from Brain Health Experts, tasty brain health-focused recipes, brain-exercising games and Neuriva, so consumers can incorporate brain health practices into their daily life all year long."

Isabel Serralha Marques

Marketing Director, Vitamins, Minerals and Supplements at Reckitt
To jumpstart mornings and reset consumer health routines, Brown composed each new breakfast recipe with healthy ingredients that can help cognitive function. While designing the meal, Brown relied on nutritional and scientific guidance from Neuriva's Global Medical Affairs Manager, Lauren Brink, PhD, RDN.
"These breakfast recipes are tasty, but they're also packed with brain-healthy ingredients," said Brown. "It's an exciting challenge to design meals that satisfy taste buds while also providing nutrients for brain health. Personally, I've made it a mission to support my brain health with plenty of sleep, the right nutrition, and supplements like Neuriva, that can support brain health.
Inspired by the Mediterranean-DASH Intervention for Neurodegenerative Delay (MIND) diet2, the recipes star ingredients that help support brain health are:
Registered Dietitian and Neuriva Brain Health Expert Melissa Halas, MA, RDN, CDE, reiterates the importance of taking small steps that add up to a brain-healthy lifestyle. "From eating phytonutrient-rich foods – like spinach, kale, walnuts and berries – to getting enough sleep and exercising with friends, there are many ways to do more for your brain in your day-to-day routine." 
From March 13-17, consumers who follow the brand on Instagram, @Neuriva, can access tips for a healthy brain and participate in Brain Games for a chance to win daily giveaways. Followers who complete five Brain Games have a chance to win special prizes and a six-month supply of Neuriva Plus and Neuriva Relax & Sleep.
For more information, please visit Neuriva.com.
1 Consumers can find the exact recipes on Neuriva.com or on Instagram @Neuriva
2 Consumers adhering to a strict MIND diet may want to consider swapping coconut milk for a dairy alternative and limiting maple syrup.