Miami Marlins step up to the plate with Lysol to strengthen ballpark disinfection protocols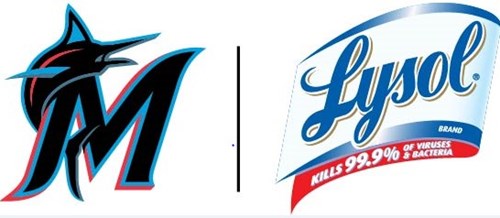 MIAMI, Fla. and PARSIPPANY, NJ (February 19, 2021) – The Miami Marlins and RB, the makers of Lysol, today announce their partnership to jointly enhance the team's existing disinfection and cleaning measures at Marlins Park, prioritizing consumer protection as the team looks to welcome fans back to Marlins Park during the 2021 regular season. The Marlins become the first Major League Baseball team to partner with Lysol and leverage the industry-leader's 100-plus years of germ-kill expertise and innovation to put in place enhanced disinfection measures that help protect fans, players and team staff from the spread of illness-causing germs, during the team's Spring Training and regular season games and practices. Today's announcement follows the commitment by RB with MLB, announced in October 2020.
The partnership comes at a time when 71% of sports fans are concerned about the safety of in-person sporting events with crowds.[1] The Marlins will work with microbiologists and germ-kill experts from Lysol to strengthen and reinforce in-park disinfection measures, with a focus on high-touch germ hotspots including railings, bathrooms, dugouts and clubhouses. RB will supply the Marlins with EPA-approved disinfection products, including those proven to be effective against SARS-CoV-2[2], the virus that causes COVID-19, to use across the high-touch and high-traffic areas where germs are most prevalent, and dispensers with Lysol Disinfecting Wipes will be made available around the ballpark for fans to use.
quote icon

"Strong hygiene and disinfection practices are of utmost importance, including for professional sports teams as they seek to protect their fans, players and staff amid the current COVID-19 pandemic,"

E. Yuri Hermida

Executive Vice President of North America Hygiene for RB
"Lysol is proud to partner with the Marlins to help inspire fan confidence as they return to the ballpark to continue enjoying America's pastime."
"We know our fans are excited to experience Marlins baseball at the ballpark and creating a safe environment for their return to Marlins Park remains a top priority as we enter the 2021 season," said Michael Shaw, Marlins Head of Experience and Innovation. "This first-of-its kind partnership among MLB teams gives our fans confidence in the steps being taken to apply additional health and safety measures at our ballpark."
[1] https://sportsatlas.com/consumer-insights/survey-fans-weigh-in-on-covid-19s-impact-as-sports-begin-to-return/
[2] According to RB's knowledge and published scientific evidence, RB is highly confident that its actives/formulated products will continue to be effective against mutated strains of the SARS- CoV-2 virus.