Step Into the Future of Air-Care with Lysol® at 'Air-aoke' — A One-of-a-Kind Interactive Karaoke Experience Featuring New Lysol® Air Sanitizer
Debuting at Music Midtown, Atlanta's Premier Music Festival, Starting Friday, September 15 through Sunday, September 17
Parsippany, N.J., September 14, 2023 – Lysol,® a Reckitt brand, is introducing the future of air-care to music lovers with Air-aoke, an interactive pop-up karaoke experience that utilizes LED technology to showcase the brand's latest innovation, Lysol Air Sanitizer. This first-of-its-kind, EPA-approved product kills 99.9% of airborne viruses and bacteria† while eliminating odors in the air.*
To put Lysol Air Sanitizer's skills to the test and educate consumers on how to protect themselves from the 1,000 virus and bacteria-filled droplets that can be produced from just one minute of singing,‡ the brand is bringing Air-aoke to Music Midtown. The experience, which draws inspiration from popular immersive art exhibits, will give music lovers a chance to get behind the mic and digitally showcase how Lysol Air Sanitizer kills 99.9% of airborne viruses and bacteria.
Festival goers can sign up for the Air-aoke experience and select a song by scanning a QR code at the activation that will register them for a performance slot. Once they step into the booth and belt their hearts out, artistic depictions of viruses and bacteria will appear on LED screens on the walls and ceiling surrounding them, creating an immersive, 360-digital experience. After the performance, Lysol Air Sanitizer will literally – and digitally – kill 99.9% of the viruses and bacteria that were released while singing, displaying how its unique formula attaches to the pathogens in the air.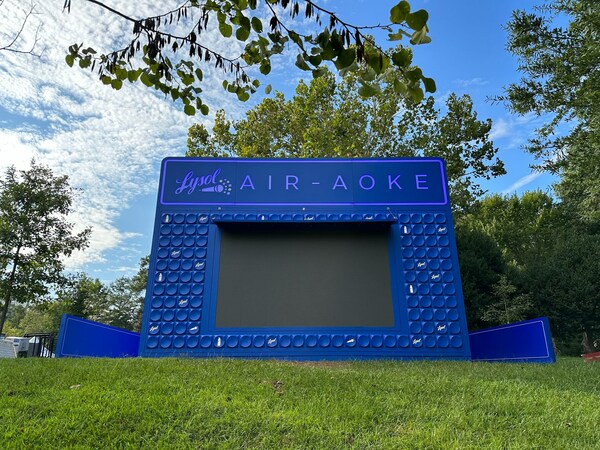 Lysol enlisted actress, singer, and mom of three, Christina Milian, to take on Air-aoke at Music Midtown and educate consumers about the importance of germ-prevention.
"Performing is one of my biggest passions – but protecting my family always comes first," Christina said. "That's why I am going to take the mic at Air-aoke and show how Lysol Air Sanitizer is changing the game when it comes to air-care. It's become a staple at work and in my home to leave my family's and my air sanitized!"  
To reach new audiences on social through Air-aoke, Lysol is engaging influencers to create music-forward social content on TikTok and Instagram. The brand partnered with musician SidClusive to create a unique backing track for other creators, including Samyra, Citizen Queen and Quazzomodo, to build upon and duet with their own verse inspired by Lysol Air Sanitizer. Consumers can hear the beats by following along with @lysolus on TikTok.
"With the introduction of our newest innovation, Lysol Air Sanitizer, Lysol is continuing its long-standing mission of protecting consumers and keeping them and their loved ones safe from the spread of illness-causing viruses and bacteria," said Benoit Veryser, Vice President of US Marketing for Lysol at Reckitt.
quote icon

"With the introduction of Air-aoke, we're able to showcase Lysol Air Sanitizer's efficacy in a unique way while empowering consumers with the knowledge and tools they need to fight airborne pathogens."

Benoit Veryser

Vice President of US Marketing for Lysol at Reckitt
For more information on Lysol Air Sanitizer or Air-aoke, visit Lysol.com or follow Lysol @lysolus on TikTok and @lysol on Instagram.
† Kills 99.9% of Staphylococcus aureus and Klebsiella pneumoniae in the air, in 4 minutes. Kills 99.9% of airborne viruses (Tested on MS2 surrogate for enveloped airborne viruses such as Influenza viruses, Coronaviruses, and Pneumoviruses) in the air, in 12 minutes.
*Eliminates odors by killing odor-causing bacteria in the air.
‡  Source: National Library of Medicine