Lysol® Launches Air Sanitizer, the First Air-Care Product that Kills 99.9% of Airborne Viruses and Bacteria
First-to-Market EPA-approved Antimicrobial Product Proven to Kill Bacteria and Viruses† and Effectively Eliminate Odors* in the Air
Parsippany, N.J., June 27, 2023 – The future of air-care is here. Lysol®, a Reckitt brand, today announced the launch in the U.S. of its new Lysol Air Sanitizer, the first and only air sanitizing spray approved by the EPA, that kills 99.9% of airborne viruses and bacteria† while eliminating odors* in the air. The product helps reduce the spread of airborne, illness-causing pathogens such as cold, Influenza and Coronavirus.
Traditional air fresheners only freshen the air and traditional disinfectant sprays only kill viruses on surfaces. That's what makes Lysol Air Sanitizer a first-of-its-kind product in the air-care category, creating a new subset of products for consumers that want to create sanitized environments in their homes.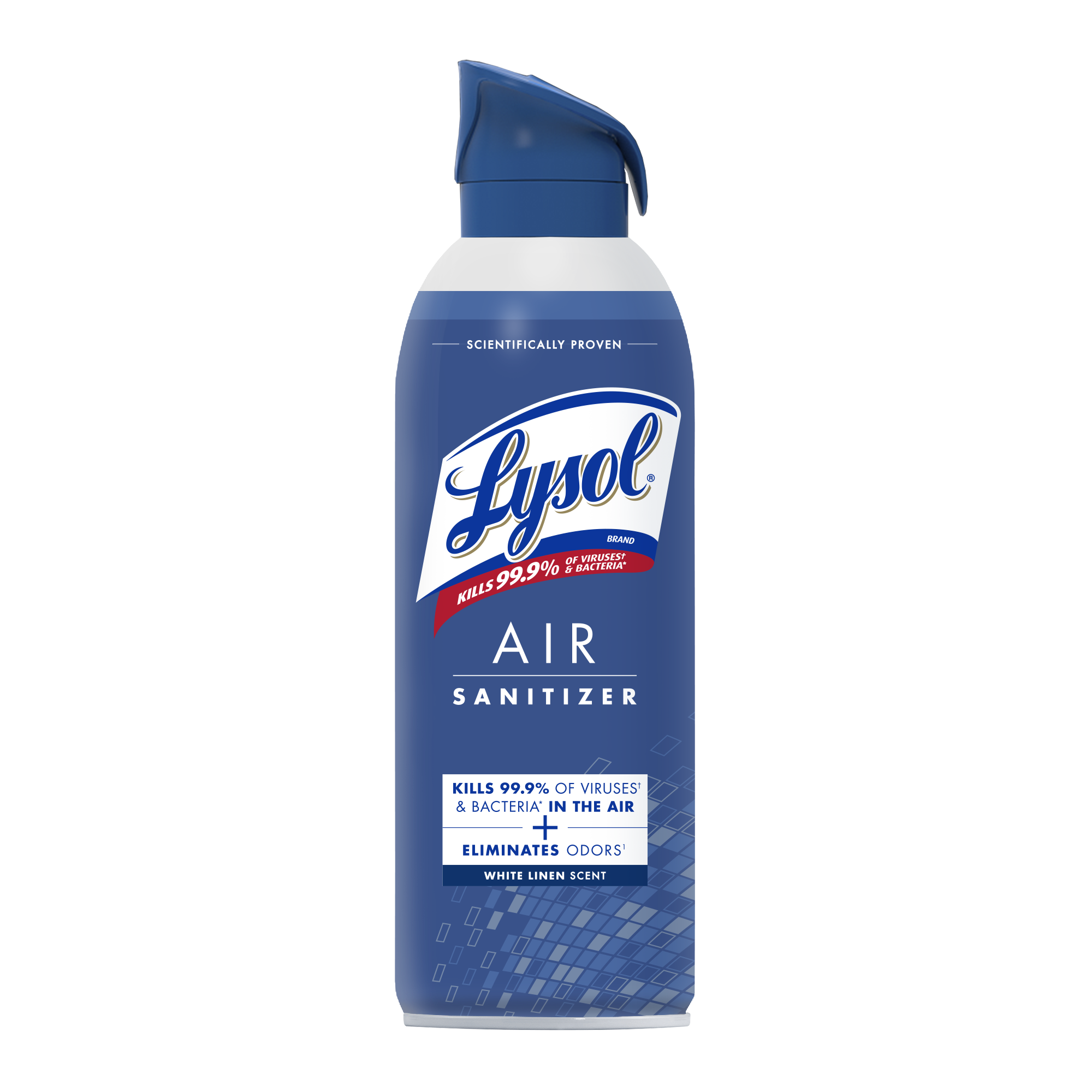 quote icon

"Lysol has been a leader in germ-kill for more than 130 years. Our purpose – to keep your loved ones illness-free – remains constant, but our portfolio evolves, to fight the spread of illness-causing pathogens on surfaces, fabrics, and now in the air. With COVID-19 making people more conscious of airborne transmission of germs, we're pleased to deliver on an unmet need for consumers to sanitize the air."

Benoit Veryser

Vice President of US Marketing for Lysol at Reckitt
Reckitt partnered with experts in the field of aerobiology and the U.S. Environmental Protection Agency (EPA) to create a rigorous testing protocol to measure Lysol Air Sanitizer's ability to reduce viruses and bacteria in the air. Robust testing of the protocol established Lysol Air Sanitizer as the first and only antimicrobial product approved by the EPA to effectively kill both viruses and bacteria in the air.
quote icon

"Lysol partnered with the EPA to develop a product that could help reduce the spread of airborne, illness-causing pathogens. After extensive review and testing, Lysol Air Sanitizer is proven to kill 99.9% of bacteria and virus in the air, breaking the chain of airborne pathogen transmission and bringing a new level of air-care protection to consumers."

Anthony Kevek

Global R&D Senior Scientist at Reckitt
HOW IT WORKS
Lysol Air Sanitizer's unique formula contains active molecules that are hygroscopic in nature, which allows the molecules to attach to microorganisms suspended in the air. Once attached, the molecules break down the structural membrane of the microorganism, leading to its destruction.
Starting in July 2023, each 10 oz. can of Lysol Air Sanitizer will be available at major U.S. retailers for a suggested retail price of $7.99. Consumers can choose from three fragrances of Lysol Air Sanitizer: Simply Fresh, White Linen and Light Breeze.
† Kills 99.9% of Staphylococcus aureus and Klebsiella pneumoniae in the air, in 4 minutes. Kills 99.9% of airborne viruses (Tested on MS2 surrogate for enveloped airborne viruses such as Influenza viruses, Coronaviruses, and Pneumoviruses) in the air, in 12 minutes.
* Eliminates odors by killing odor-causing bacteria in the air.