Planetary health is human health report: 2022 edition
After another year of devastating climate change catastrophes – from the floods in Pakistan and South Sudan, to the heatwaves and wildfires across Europe – there's no denying the impacts of climate change and the connection between the planet's health and human health.
In the face of these pressures, we're finding solutions. Our latest report linking human health and planetary health focuses on people's perception of the health threat from climate change and ways we can build climate-resilient healthcare systems.
To turn the insights from our 2021 report 'The Planet's Health is Everybody's Health', into action, we commissioned new quantitative research in the UK, USA, UAE and India, to explore how people perceive the health impacts of climate change, what actions they are taking themselves as a result and what measures they want to see from businesses and government.
The research shows that the majority of people (79%) agree that climate change and people's health are connected.
While collectively only 62% believe that climate change is already negatively affecting the health of people in their country, the picture varies by country, with hotter countries like India and the UAE having higher levels of agreement.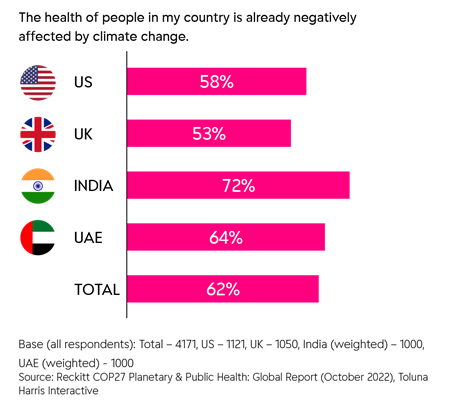 Collectively, 70% agree that climate change and their personal health are connected. People support action on climate and health and see it as a priority. Healthcare and climate change rank as people's second and third most pressing current priorities for government, behind only cost of living / economic recovery.
The health of our planet and the health of every person on it are inextricably linked. Climate change threatens immense damage both to the planet, and to everybody's health, further stretching the health systems on which we rely.
How are we playing our part?
The inextricable link between planetary and human health drives our purpose. To play our part in building climate resilient health systems, we are Mitigating, Adapting, and Anticipating:
Mitigating Our Impact on the Natural World – Through our science-based 2030 ambitions, we are working to mitigate the impact of our own business and supply chain, as well as helping our customers mitigate their own impact on the natural world. Through our purpose-led brands, we are innovating our products to make their lifecycle more sustainable, and engaging with millions of people each day, helping them to take small actions that add up.
Adapting to the Impacts of Climate Change – Populations worldwide are already feeling the health impacts of climate change, so we must double down on adaptation. We are helping people adapt through innovating our products and helping consumers protect themselves against the health threats posed by climate change. Our brands support disease prevention, while our partnerships and programmes are improving access to water, sanitation, and hygiene for the communities we serve. Through the Climate and Health Coalition we are helping provide guidance for businesses on how to simultaneously drive progress on climate and health.
Anticipating future health threats – We are conducting, and funding cutting-edge research to anticipate future health threats, driving health innovations, and convening a coalition of climate and health experts to accelerate change. We are easing the burdens on health systems by addressing four of the world's largest health problems, empowering people to engage in self-care, and encouraging positive consumer behaviour change.
Everyone's health depends on a healthier planet. We need governments, policy makers, industry, academia and NGOs to see the climate crisis through the lens of human health. At Reckitt, we want to play our part. If, as a society, we rise to this challenge, we will have healthier populations, reduced healthcare and societal inequalities, and health systems that are climate and nature positive. This will help build happier societies, while protecting the natural world on which we rely. This is the vision that Reckitt wants to work towards.