Working towards a cleaner, healthier India
We've been partnering with New Delhi Television (NDTV) since 2014, with the shared ambition to work towards a clean and healthy India. From working with top Bollywood stars to Government Officials and Health Experts, India's most trusted germ protection brand has reached over 116 million people through the Dettol Banega Swasth India Campaign.
Good health for all
The latest campaign, which took place earlier this month, was once again backed by Amitabh Bachchan, one of the most influential actors in Indian history. Joining the popular telethon in Mumbai, we focused on Hygiene, Health and Nutrition and the inter-dependency of humans and the environment, and of humans on one another, with the agenda of One Health, One Planet, One Future – Leaving No One Behind.
The 2022 season has again brought to the forefront the progress we've made as well as the challenges we need to work on together. Partnership and education are key.
Find out more about the Banega Swasth India campaign here.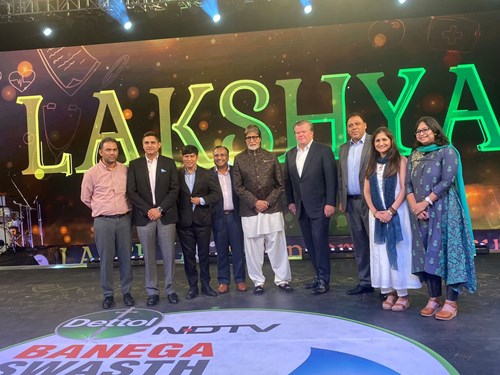 Our commitment to India
Dettol Banega Swasth India is just one of the ways that we're supporting families, friends and communities in India to live healthier lives. Our ambition is to help every Indian to have access to good health care and to improve average life expectancy through innovation, technology, access to medical care and focused self-care. We're working with communities in India to help protect life and reduce the burden of illness by building lasting hygiene habits, using our trusted brands.
We need a strong society to combat issues that pertain in healthcare. The Indian population have solutions to issues. Our job is to provide access and we will be committed to that.
As part of our commitment to building hygiene as the foundation of health, we're driving behaviour change that lasts. We've educated 20 million children on hygiene behaviours like hand washing as part of the Dettol School Hygiene Education Programme. Alongside this, through our Reach Each Child programme, we have averted 6,500 deaths due to malnutrition in line with our aim of zero deaths in villages.
We have a long history in India, one of our top three markets, where we've been operating since 1934 and are committed to our partnership there. Find out more about our contribution to the economy and communities in India in the latest Oxford Economics report.