We have a responsibility to do the right thing. Always. And this applies to how we work and who we work with.
Did you know that our supply chain touches over 60 countries? From rural farms to huge raw and packaging material suppliers to manufacturing units and distribution, we work with a variety of organisations to deliver on our purpose and provide the highest quality products for our consumers.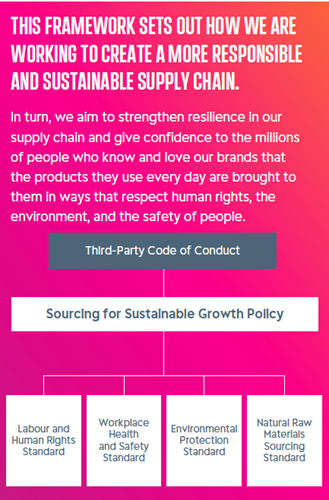 Our purpose goes beyond Reckitt. All of our Business Partners play one unified role in creating a cleaner, healthier world and together, we can truly make a difference. We're working tirelessly to address the social and environmental challenges outlined in our Sustainability Ambitions. And our supply chain plays a crucial role in this. That's why we've updated our supplier sustainability policies creating a new Sourcing for Sustainable Growth Policy.
This applies to all Business Partners providing goods and services to or on behalf of Reckitt, including:
Third-party manufacturers
Raw and packaging material suppliers
Service providers
Vendors, traders
Agents, contractors
Joint venture partners
Distributors, including their employees, agents and other representatives
Collectively, our Business Partners will be sharing these standards within their supply chains and making sure that their direct suppliers meet them.
I'm looking forward to working with our Business Partners to help deliver the highest standards of quality and sustainability across our shared supply network. I am sure we can achieve more together, more value and more impact on critical areas for our businesses, for our communities, and for society.
How are we creating a more sustainable supply chain?
We have a variety of initiatives focused on creating a sustainable supply chain ranging from ensuring our direct suppliers respect human rights, promote diversity and inclusion, and protect the environment; through to improving the livelihoods of farmers upstream in our latex supply chain by providing training on farming practices, ecosystem management and income diversification.
Together, we'll be working to strengthen these initiatives and partnerships, enabling our company and wider supply chain to drive real change, as we continue in our relentless pursuit of a cleaner, healthier world – and a more sustainable supply chain.
You can find out more about this policy and our sustainability activities by visiting our Sourcing for Sustainable Growth page here. Take a look at our Sustainability policies and recent reports here or get in touch with sustainability@reckitt.com