World Toilet Day is a United Nations Observance day all about taking action to tackle the sanitation crisis and contribute towards achieving Sustainable Development Goal 6 (SDG6). This year's World Toilet Day theme is 'valuing toilets'.
Did you know?
3.6 billion people don't have access to a toilet
At least 2 billion people use a drinking water source contaminated with faeces
Every year, over 700 children under five-years-old die from diarrhoea linked to unsafe water, sanitation and poor hygiene
Harpic is committed to enabling equal access to toilets and bathrooms and ensure that toilets are a place of safety for everyone, especially for women, children and those in vulnerable situations.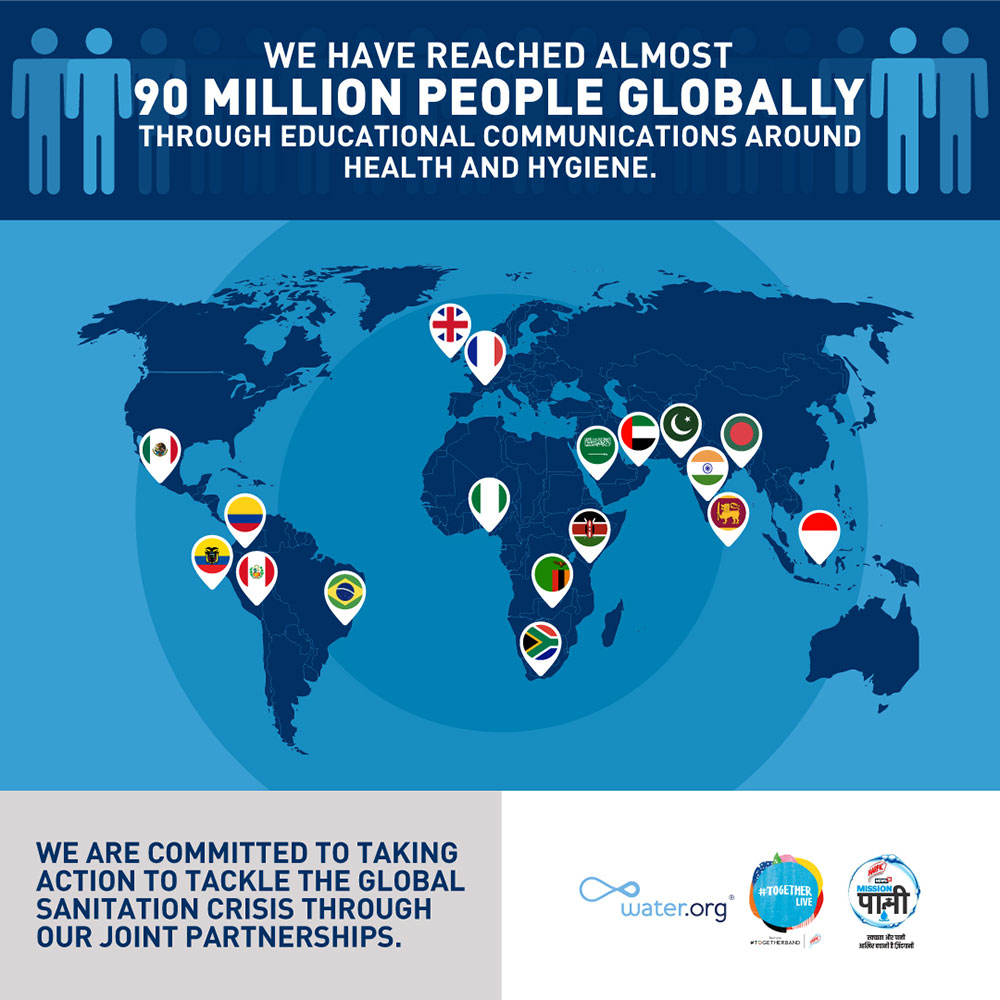 So for Harpic, every day is World Toilet Day and countries across the world have been working towards achieving this goal…
Harpic has reached almost 90 million people

globally

through

educational communications around health and hygiene.

Did you spot Harpic getting involved in the UN's

World's To Do List campaign

recently

Last year, Harpic partnered with #TOGETHERLIVE, a movement that couples music and film to get to the heart of issues and drive change in the areas that need immediate support - particularly Brazil and Mexico.
Harpic has been pioneering the cause of hygiene and sanitation in Indian homes for decades. In its 5-year collaborative program, Harpic Mission Paani, is looking to create an ecosystem which will help in driving behavior change towards water conservation and sanitation.
"A nous les toilets" in France aims to improve the use of toilets at school and to help develop solutions to encourage children to follow best hygiene practices in toilets.
Harpic has been working with Water.org since 2018. Over the last three years it has:
Provided access to safe water and sanitation to the world through access to small, affordable loans

Impacted the lives of over 400,000 people across India, Indonesia and beyond, improving access to clean water and sanitation facilities at home

Supported the improvement of water and sanitation in Kenya through the global Reckitt travel savings made in 2020 – impacting 70,000 people
In total, this partnership has impacted almost 600,000 people. In 2021. And the Harpic team are only just getting started…
For more than 100 years, Harpic's purpose has been a driving force for our brand and our team. Across the world, we know poor hygiene and sanitation is linked to the transmission of diseases. We will enable and empower consumers to embrace improved sanitation for better health.
"Our purpose and partnerships across so many countries have made us the number one toilet cleaning liquid in the world and on this World Toilet Day 2021, we are inspired to do more, go further and have an even bigger impact on the global sanitation crisis."
Spread the message and join the conversation on social media using the hashtag #WorldToiletDay.