We're coming to the end of Pride month, but that doesn't mean that we're going to stop sharing our people's inspirational and uplifting stories any time soon.
Today, Yaseen Schrueder, (He/Him), Global HR Business Partner – Procurement & Quality, Hygiene – based in Amsterdam, shares his experience as 'a queer, mixed-race, expat living at working in the Netherlands'.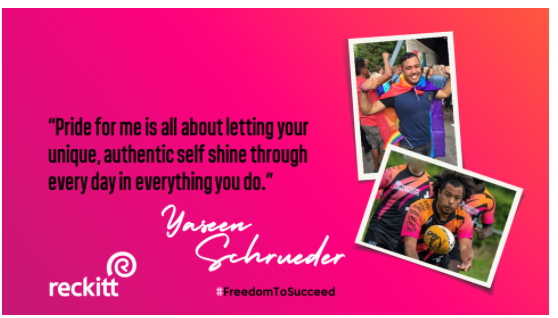 Tell us a little more about you…
I am part of the Hygiene HR team based in Amsterdam. I have recently joined Reckitt and have always been an out and proud HR professional.
What does Pride mean to you?
As a queer, mixed-race, expat living and working in the Netherlands, Pride for me is all about letting your unique, authentic self shine through every day in everything you do. It's about acknowledging the struggles of those that came before us and continuing the fight for future generations.
Overall, it is about celebrating all aspects of the queer community and using our voices and privilege to help those who may not be able to speak for themselves.
Have you always been out at work? Or have you ever felt like you have had to keep it a secret?
I have not always been brave enough to bring my whole self to work. When I entered the working world as a graduate, I often avoided certain questions or gave vague answers until one day I decided that it was time to stop hiding and truly live my truth. This was not an easy journey for me and was only possible through the support I experienced from an amazing chosen family.
Could you tell us about an instance where you faced or witnessed prejudice in the workplace?
I have been lucky enough to not have faced prejudice directly but in the past, I have overheard conversations or comments in passing regarding people who look or present as different. Ignorant jokes or comments can sometimes surface due to our inherent, unconscious biases. But we all have a responsibility to challenge ourselves and each other regarding these biases.
During your career, what have you seen change on LGBTQ+ matters?
I am extremely proud to see a shift in the need for awareness and understanding from both companies and leaders. I have seen many changes to policies and culture focusing on creating safe, inclusive spaces that allows employees to bring their entire selves to work. However, we still have a long way to go.
What are some of the most common misconceptions about the LGBTQ+ community?
Where to start? Loud, flamboyant or perhaps good with power tools - while some of these misconceptions are perfectly fine and true, it is not only who we are. Our biggest strength is how truly diverse we are. But at the end of the day, we are just people trying to live authentically. Mothers, fathers, husbands, wives, rugby players, artists, creatives – all of these identities can co-exist and be part of who we all are.
What more needs to change in society for LGBTQ+ people to feel empowered?
Overall, we need to be engaged with more than spoken to. We need more opportunities for greater representation of the more marginalised members of the community that still face hate and discrimination still today. For until we are all free to live our truths, none of us are.