RB kicks off its Our story l Our heritage campaign with the world's number one condom brand: Durex
The world's number one condom brand1 started life in a rather unassuming factory in the East End of London back in 1929. Durex is now sold all over the world and over half a billion2 condoms are purchased globally every year.
But how did the brand grow to such prominence? It's all thanks to a simple formula: durability + reliability + excellence = Durex!
Durex from day dot
Let's start at the very beginning…
The London Rubber Company was founded in London by Lionel A Jackson in 1915 and initially traded in rubber products – such as gloves, waterproof sheets and protective sheaths (or 'condoms', to you and I) imported from Germany.
'Durex' first appears in 1929, with an application made by Lionel for the name to become a UK registered trademark. Alongside Lucian Landau – a Polish teenager studying 'rubber technology' in London at the time – Lionel spent the next three years researching and developing latex dipping technology. In 1932, it was all systems go and production of the first Durex condoms began!
Images taken of the early factories show rigorous testing taking place, the use of cutting-edge technology and strict checks being made by teams of experts patrolling the factory floor. It's clear that the development and manufacturing of durable, reliable and excellent products was important for the brand from the start.
Things got off to a great start and production had to relocate to a larger site in another area of London in 1939. Manufacturing in the UK continued throughout the war and Durex products were even supplied to the armed forces - anything to help our troops!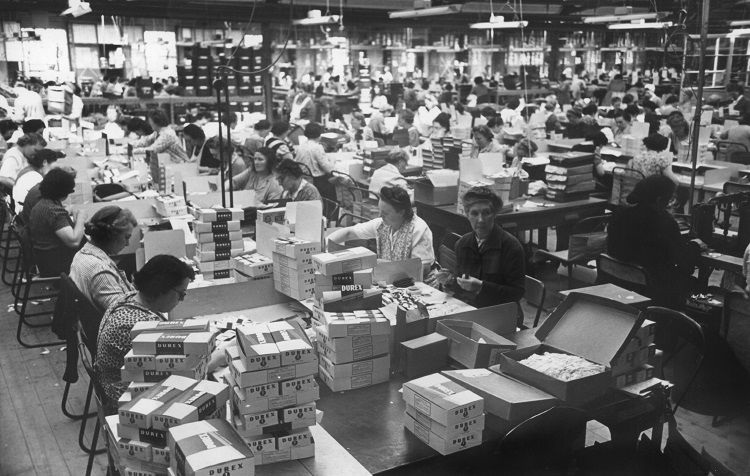 Durex's market domination continues
Technological advances at Durex continued over the next 20 years and in 1952, Durex pioneered the electronic testing of condoms, which 'sparked' a condom revolution! Over the next 15 years, Durex released a range of new products including:
Durex Gossamer
Duracreme
Durex Transparent
Durex Coral Supertrans
Elarco Minor (or American Tips)
Duragel
The list goes on!
By 1964, Durex had embarked on strategic acquisitions, a global expansion, the continued use of cutting-edge technology and successful new product launches. But it wasn't just Durex's shrewd approach to business, its forward-thinking use of technology and its durable, reliable and excellent products that built its early success. One thing has always stood the brand apart. Its advertising.
Advertising: the Durex way
You think talking about safe sex is difficult today? Think about the challenges faced by the marketing team in the 1930s! Durex had to come up with some seriously creative advertising techniques to get its products off the shelves and into our bedrooms.
In the early days, Durex's products were promoted to 'young marrieds' for 'family planning' purposes3.
Durex's advertising has encountered strict censorship, particularly in the Middle East4. But the brand has continued to lead the way and is recognised as the first condom brand to advertise in many countries all over the world5.
Durex took to the track in 1976, ruffling feathers with the sponsorship of a British Formula 1 racing team6
As public consciousness of HIV and AIDS peaked in the 1980s and '90s, Durex's position as a health-focused brand grew, with advertising reminding consumers of the importance of safe sex as being potentially lifesaving7
Durex's 1996 MTV advertising campaign marked '…a radical departure from the doom and gloom messages which have characterised safer sex advertising in the past…' and reached 55 million people worldwide8
Over the years, Durex has won countless awards for its loud, proud, compelling, powerful and important advertising campaigns. In the early days, campaigns spoke of health, protection against unplanned pregnancies and peace of mind. Today, the brand challenges the norms, embraces the realities of sex in a modern world and fights against the transmission of HIV, and other sexually transmitted diseases through the promotion of safer sex for everyone.
Durex joins RB
At RB, we know a good thing – or brand - when we see it. In 2010, Durex joined RB through the acquisition of SSL International. And after over nine decades in business, the brand continues to grow, push boundaries and communicate the important message of safer sex.
Durex, you don't look bad for 91!
Today's launch is tomorrow's heritage.
Interested in finding out more?
Visit Durex
Sources:
1. Claim based on information aggregated and reported in part from data supplied by Nielsen through its Retail Measurement Services and in part from data inputs from other suppliers for the Condom category (RB defined) for the 12-month period ending Oct 2019, for the defined RB geographic focus
2. Nielsen sales data
3. Durex advert, Reader's Digest, November 1968 "In family planning, the simpler the better"
4. In House Magazine abstract, Jan/Feb 1997, "Balancing Act in the Middle East"
5. www.durex.co.uk/pages/history
6. www.bbc.co.uk/sport/formula1/35748458
7. In House magazine abstract, Jan/Feb 1997, "MTV rave in Indonesia"
8. In House Magazine abstract, Jan/Feb 1997, "Durex for that longer lasting feeling"