Golf Clubs across Great Britain and Ireland will be bringing their hygiene protocols 'up to par', thanks to a significant new partnership with Dettol Pro Solutions – Dettol's business-to-business offering.
The PGA will be enhancing hygiene standards for its 6,500 members in Great Britain and Ireland and their 3,000 associated clubs.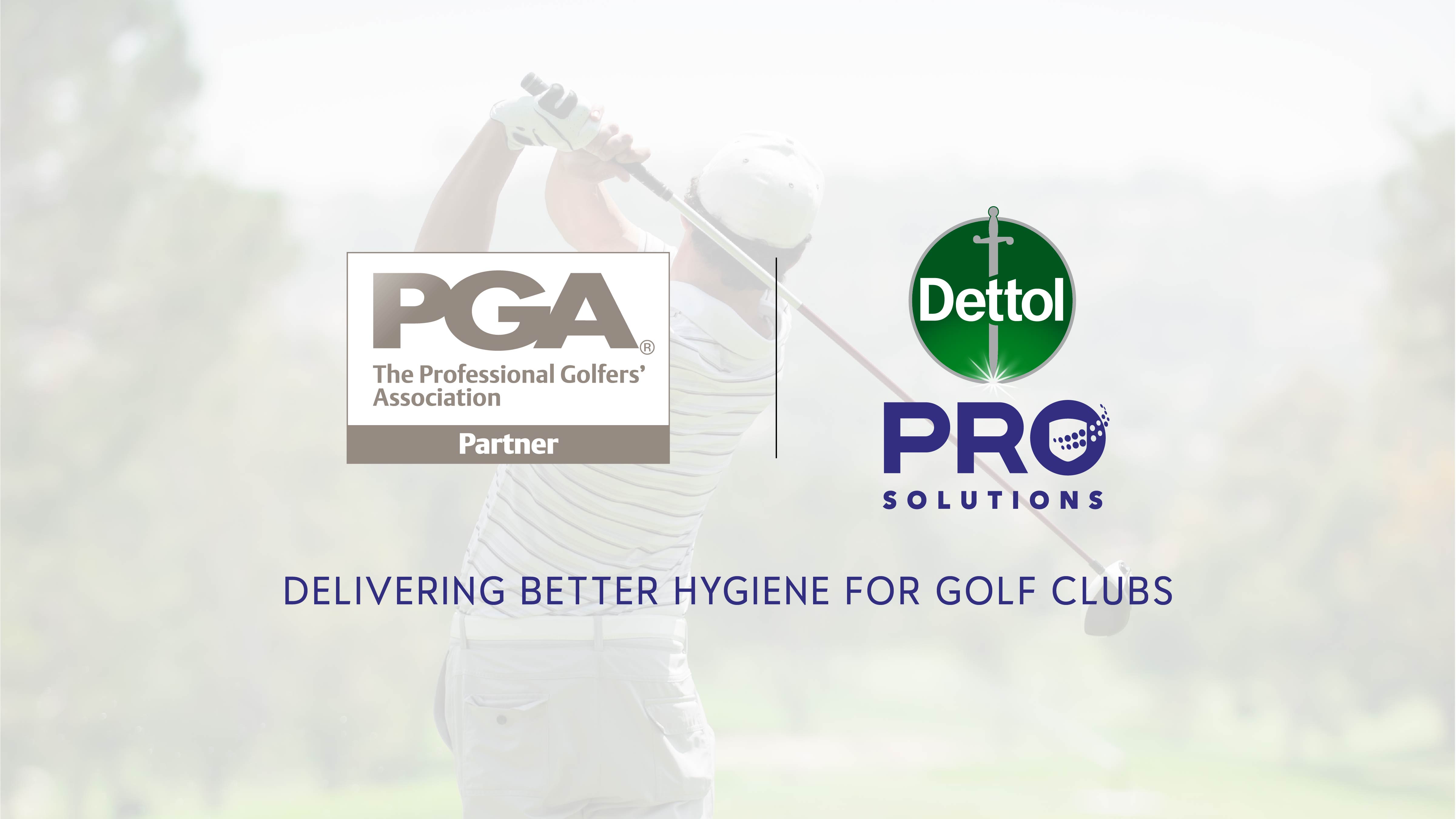 Despite ongoing concerns around the return to leisure activities and businesses, golf has actually seen a huge surge in popularity in the past year, with 5.7 million people playing on a full-length golf course in 2020, up 2.3 million on-course adults compared with the previous year. In order to continue to keep golfers safe as they return to the sport, The PGA will utilise Dettol's germ-kill products which kill 99.9% of bacteria and viruses, as well as Dettol's scientific expertise to help enhance cleaning protocols for its growing membership.
The PGA's partnership with Dettol Pro Solutions will see:
Exclusive offers and rates on Dettol hygiene products
Co-branded Dettol and PGA dermatologically tested hand sanitiser dispensers to install in clubs and facilities
Targeted hygiene kits containing Dettol products and scientific cleaning guidance focused on disinfecting surface areas to help against the spread of germs
Signage at golf courses and practicing facilities to educate visitors on better hygiene practices
The health and wellbeing of The PGA members and the wider golfing community is our biggest priority. To bring onboard a partner like Dettol Pro Solutions helps The PGA give additional value to our membership through exclusive rates on hygiene products, professional co-branded sanitiser dispenser units and up to date cleaning protocols using leading Dettol products.
David Adams continues,
"It's clear that we will all be living with the risk related to diverse bacteria and viruses for the foreseeable future and so the ongoing expertise and support that Dettol Pro Solutions will be providing to our PGA Members and their attached clubs will help build trust with golfers retuning to the game and those trying golf for the first time.
"We've been very impressed with Dettol's various partnerships with iconic British partners such as British Airways at Heathrow, TFL, and The FA so this partnership is a great collaboration to help The PGA continue to its leadership position within golf."
At Dettol Pro Solutions, we strive to make access to the highest quality hygiene a right not a privilege and so teaming up with an organisation like The PGA which welcomes people of all abilities, genders, and ages to golf, is in direct synergy with our mission.
Jonathan Weiss continues to say,
"We've done a lot of work with businesses and organisations over the past year to support better hygiene standards so people can return to much-loved everyday activities."
Through this partnership, Dettol Pro Solutions is enhancing hygiene practices to help people get back to doing what they love. As part of our Global Business Solutions (GBS) offering, we've been working with some of the world's biggest business to create purpose-led partnerships that are helping us all stay safe.
Did you know we are the official hygiene partner for COP26? You can read more about it here.